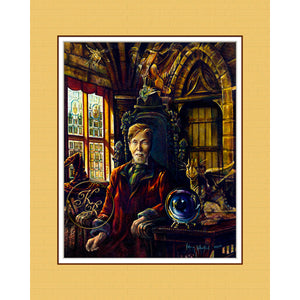 This Kathryn Rutherford Fine Art Spirit Painting reproduction giclee print depicts a Wizard in a Gothic castle room with his wizard hat, his crystal ball, and his magical spirit creatures of a griffon, a dragon, and a sprite all around him.  

Are we gazing into the crystal ball or is the crystal ball looking out at us? 
All prints are shipped rolled in tubes and delivered with faux double matting exactly as shown but without the KR Watermark.  Sizes are by outside measurements of the matting which allow for standard size framing.