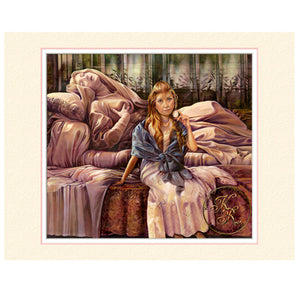 From the "Colour Collection", this original Kathryn Rutherford Fine Art Spirit Painting reproduction giclee print represents the colour White and shows the marble Gian Lorenzo Bernini funerary monument of Ludovica Albertoni, a wealthy 17th Century Roman noblewoman, with a young red-headed woman seated in front holding a white egg.
While Bernini's statu represents the moment of ecstasy when Ludovica met her God, the painting itself represents every art student's agony of painting the repetitive values of white textiles and fabrics and single white objects, like an egg...which are not white at all!
All prints are shipped rolled in tubes and delivered with faux double matting exactly as shown but without the KR Watermark.  Sizes are by outside measurements of the matting which allow for standard size framing.