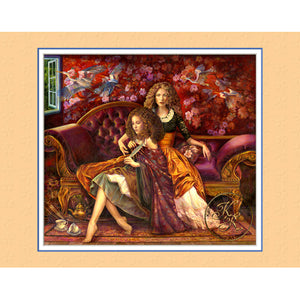 This Kathryn Rutherford Fine Art reproduction giclee print depicts two beautiful maidens sitting on a velvet chaise lounge after having afternoon tea while the Victorian floral wallpaper comes to life and the blue heron cranes escape out the window to freedom.  
Are the women mother and daughter, sisters, lovers, or somethng else the viewer sees in this one of a kind Spirit Painting. 
All prints are shipped rolled in tubes and delivered with faux double matting exactly as shown but without the KR Watermark.  Sizes are by outside measurements of the matting which allow for standard size framing.