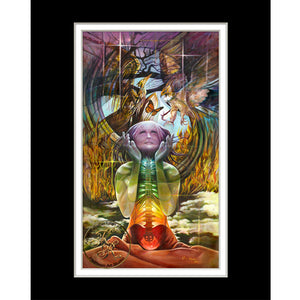 "Peace comes from within"--Buddha
Esoteric traditions of Eastern Religions profess that the life force, or prana, moves inside one's body. This spinning energy has seven centers (and associated colours) starting at the base of the spine and moving upward to the top of the head.

When these seven centers, called the Chakra, are balanced, one's mind, body, love life, and more align and mankind's inner self finds peace, acceptance, and understanding.

In this Metaphysical Spirit Painting artist, Kathryn Rutherford, expresses the concept of inner healing while the female subject, seated in the Lotus Position of Yoga, releases the symbolic butterfly that represents change or metamorphosis. The Phoenix bird rises and regenerates from the flames while the Hawk, often a messenger from Angels, Devas, or the Devine, signals a time in life when one needs to focus on what is ahead and prepare to take a leadership role. Just as with the Hawk, now is the time to heal, balance, focus on what is ahead, and fly higher than ever before.
All prints are shipped rolled in tubes and delivered with faux double matting exactly as shown but without the KR Watermark.  Sizes are by outside measurements of the matting which allow for standard size framing.