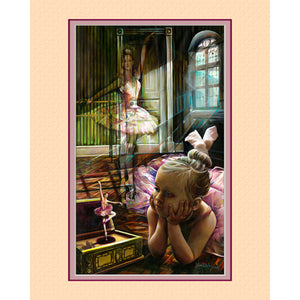 This Kathryn Rutherford Fine Art Spirit Painting reproduction giclee print depicts a young girl gazing at a Ballerina Music Box as she dreams of becoming a Prima Ballerina which is seen in the background as a transparent ghostly apparition in the rays of sunshine.  
Pas de Deux is a Ballet term meaning "Dance For Two" usually applied to a dance of the lead male and female dancers of a ballet production.  This is a dance for two but, which two ballerina's are doing the dance? 
All prints are shipped rolled in tubes and delivered with faux double matting exactly as shown but without the KR Watermark.  Sizes are by outside measurements of the matting which allow for standard size framing.