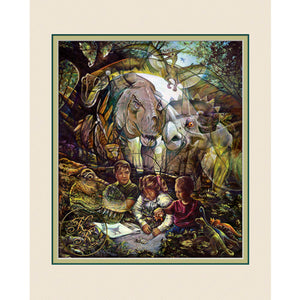 Every young child is fascinated by dinosaurs especially a Tyrannosaurus, Triceratops, Stegosaurus, Pteradactyl, Brachiosaurus, Allosaurus, and Brontosaurus.
This Kathryn Rutherford Fine Art Spirit Painting reproduction giclee print depicts an adventure as these adorable youngsters play in the woods with their dinosaur toys and hunt for dinosaur bones beneath the ground....is something hunting them or are the ghosts of creatures long gone merely curious?!
All prints are shipped rolled in tubes and delivered with faux double matting exactly as shown but without the KR Watermark.  Sizes are by outside measurements of the matting which allow for standard size framing.