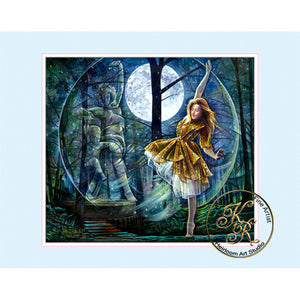 "Dancing In The Moonlight" is the fifth Spirit Painting in the "Colour Collection", a series of nine paintings each based upon a single colour in the Colour Wheel (Red, Orange, Yellow, Green, Blue, Violet) plus Black, White, and Brown.
This painting, representing Blue, finds a young woman enjoying the solitude of a moonlit forest where she can dance to her heart's content and partner with imaginary statuary about to take a leap from their marble world into the world of creative dance.
All prints are shipped rolled in tubes and delivered with faux double matting exactly as shown but without the KR Watermark.  Sizes are by outside measurements of the matting which allow for standard size framing.